Hopefully you will be able to find all of the answers to your questions in the FAQ, but if you are still unsure of something or have a question. Please don't hesitate to reach out and contact us.
Quick Links
IS THERE A DELIVERY CHARGE?
An order must be at least $100 in value to qualify for delivery. If your order meets this requirement, delivery starts at an $80 flat rate and may increase depending on distance from our warehouse or difficulty of delivery.
The starting rate of $80 is a flat fee charged for loading and unloading (excluding staging) both at the warehouse and delivery site. An additional fee of $1.00 per mile will be calculated based on distance from our warehouse to the delivery site. If the delivery includes traversing steps, an elevator, or a reasonable walk from where we can park our delivery vehicle, an additional fee will be accessed at the time of delivery.
Standard delivery fees include a four-hour window of time in which to deliver and pick up during normal business hours. If we must arrive at a specific time, a $150 surcharge will be added to the delivery fee. If we must arrive within a one-hour window of time, a $100 surcharge will be added to the delivery fee, and for a two-hour window of time, a $50 surcharge is added.
Normal business hours are defined as 8:00am -6:00pm daily. An extended-day surcharge of $100 will be applied for orders that require our crew to deliver earlier than or after normal business hours. Pick-ups taking place after 11 p.m. will be charged $250 or 10% of the rental total, whichever is greater. After-hours pick-up fee is in addition to the standard delivery fee.
Please call our office for additional information and a delivery fee quote.
WHO IS RESPONSIBLE FOR ASSEMBLY AND TEARDOWN OF LARGE ITEMS?
Items that require assembly and tear-down such as tents, stages, and dance floors are included in the rental fee.
WHAT IS THE COST ASSOCIATED WITH SET-UP AND BREAK-DOWN OF RENTAL ITEMS?
Set-up and Break-down is FREE.
DO I NEED TO BE THERE WHEN THE ITEMS ARE DELIVERED?
It is not mandatory for the customer to be present for delivery as long as arrangements have been made with the venue and our crew has access for delivery. However, it is preferred to have an authorized signer present at delivery to verify inventory quantity, condition, and proper location.
WHAT IF DAMAGE OCCURS TO A PIECE OF RENTAL EQUIPMENT WHILE IN MY POSSESSION?
You will be charged the replacement cost of the damaged or missing items. Security of the rental equipment is YOUR responsibility! Equipment must be protected from theft and damage (including weather related) while in your possession until scheduled pick-up time.
HOW DO I GET IN TOUCH WITH YOU AFTER HOURS FOR AN EMERGENCY RELATED TO MY EVENT?
If an emergency concerning your existing rental order arises during non-business hours, someone on our staff is only a phone call away. Call our main line at (813) 541-4309. If we happen to miss your call leave a message we will get back to you as quickly as possible to resolve the problem.
WHAT TYPE OF PAYMENT ARE ACCEPTED AND WHEN ARE THEY DUE?
A NON refundable 20% deposit is required when booking your rentals and the balance is due two weeks prior to the event. For your convenience, MasterCard, Visa, Discover, as well as cash and personal checks are accepted. Cash and Personal Checks are the preferred payment method and a 3% discount will be applied when used.
ONCE I'VE SECURED MY RENTAL, CAN I MAKE CHANGES?
Of course we will do our best to accommodate any changes in the order quantity and event date. Changes will be determined on a case by case basis based on our current inventory and availability. Changes made within 30 days of the event are not allowed.
HOW LONG IS THE RENTAL PERIOD?
Rental rates are based on a reasonable event period. We recognize that a 24-hour rental window may not always make sense. Therefore, our current inventory and the event venue requirements will govern when pick-up is possible. We will gladly work with you to ensure timely pick-up
I'M READY TO PLACE AN ORDER, WHAT IS MY FIRST STEP?
When you are ready to place your order, call our office at (813) 541 4309. One of our event specialists will check availability, go over pricing and delivery instructions, and answer any questions or concerns you may have at that time. Reservations require a 20% deposit and a credit card number to have on file.
TENT INSTALLATION AND RENTAL
It is our policy that our tent(s) be installed by our experienced crew, unless stated otherwise. Upon completion the renter is responsible for the equipment rented whether is becomes impaired by weather, casualty, or any other causes except if any defect in equipment existing at the time of installation.
Underground Pipes, Cables: We have no information of pipes and cables on your property. Therefore we are not responsible for any damages.
Preparations for tent installation, and removal: When installing a tent our crew spreads out the top flat on the ground where the tent will be resurrected, therefore the area must be cleared prior to arrival. The tent must be cleared from objects underneath so our crew can remove the tent. If our crew has to move anything from the under the tent additional fees will be applied.
I NEED TO RENT A DANCE FLOOR BUT AM UNSURE OF THE SIZE I MAY NEED!
For a dance floor you want anywhere from 2.5 to 4.5 square feet per person. Typically only 50% to 60% of your guest count will be dancing at a time. Below are some general sizes and the number of people on the floor based on our formula: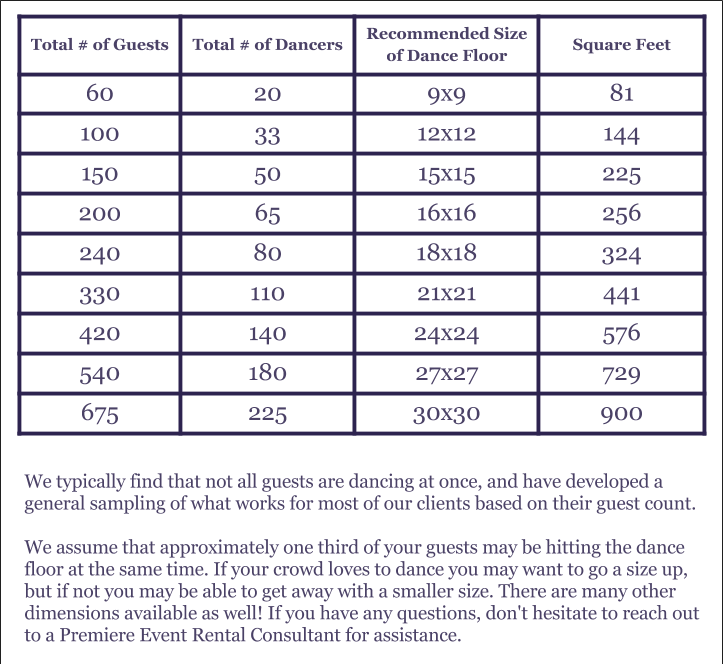 CAN WE PICK UP THE INVENTORY OURSELVES?
Our staff handles all transportation of the chairs, tables,and tent items to and from your event.
RELEASE OF LIABILITY
Traditions Rentals LLC is NOT responsible for injury occurring to Lessee or to any persons using the leased property and the Lessee further agrees to hold Traditions Rentals LLC free and harmless against any injury claims or property damage. By accepting these terms you indicate agreement with all the provisions in this lease and acknowledge that you will read, review, and follow all of the General rules posted on the rented equipment.