Distinctive elegance.  Classic traditional.  Country charm.
No matter your wedding daydream, Traditions Rentals provides unique wedding pieces as well as standard equipment to help make your dream a reality.  We offer high quality tents, varying table choices and sizes, diverse chair selections, and exclusive items to round out your wedding theme or supply your special event. Unlike a corporate drive entity, our owner operated and managed company in Land O'Lakes, Florida, regards your desires as our chief consideration.  We personally see that your requested inventory arrives timely and that set up and removal honor our agreement with you.  By respectfully working behind the scenes, we allow you to focus on your special day, making memories that will last a lifetime.
So dream.  And trust Traditions Rentals to handle all the details.
Having hosted many different events over the years at our 30 acre tree farm in Land O Lakes and seeing the happiness on peoples faces, we decided to branch out and look to help serve the rest of Tampa Bay.
We believe that from our experience of hosting different events over the years we know what pieces really set a great event a part, and we want to provide those to you with great service.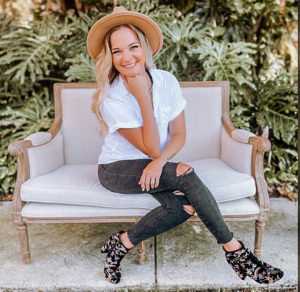 Hello! I'm Kara and I'm one of the four owners of Traditions Rentals which includes my husband, James, and parents, Cheryl and Gerry. Before owning Traditions Rentals, I worked as a wedding planner and organized over 100 weddings & events. It's safe to say I know what couples are looking for in a rental company.
In the past, I worked in hotels booking events, local zoos planning large gatherings, seasonal events & weddings, and then transitioned to a full time wedding planner.  Weddings have always been my passion since I was a little girl… I mean how amazing is it to reach your dreams?
I'm stoked that you're here reading my history and what makes Traditions Rentals stand out against all the rest!  Using my creativity, planning expertise, and determination I promise to help you book your rental needs to make your dreams come true.
As a wife and once bride, I strive to provide honest, easy service that will keep you satisfied and stress free. I mean who wants to be stressed while planning their wedding?!  I hope to work with YOU soon and create wedding & event magic!  But until then CHEERS to you and Congratulations!
Hope to speak and work together soon.
Photo Credits: Lifelong Photography Studios & Adore Bridal Hair and Makeup